Fast, simple and user-oriented
The idea was to develop a site that portrays the extremely diverse festival in all its facets and at the same time fully meets the requirements of the users. In addition, the various user groups should be able to easily access information, quickly get an overview of the extensive program and conveniently book tickets.
Discover programme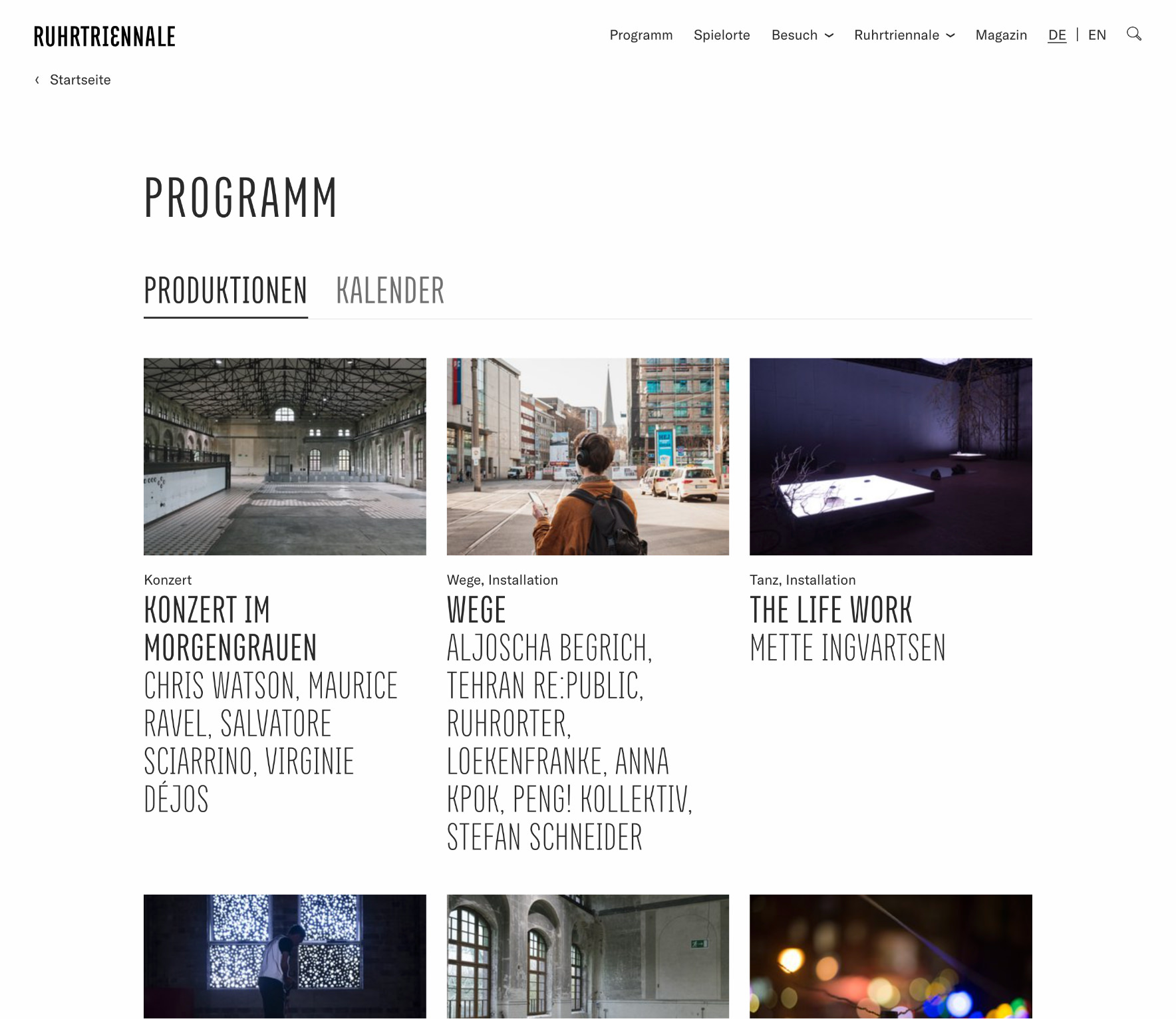 White space for the content to breathe
The site features a visually strong overall look with large images – primarily by internationally renowned photographer Tobias Zieloni –, illustrations, clear typography, minimalist hover effects and custom cursors. Generous white space keeps things calm and puts the focus on the art and venues: We let the images speak for themselves. It was also important to us that the information relevant to the user is bundled where it is expected and used.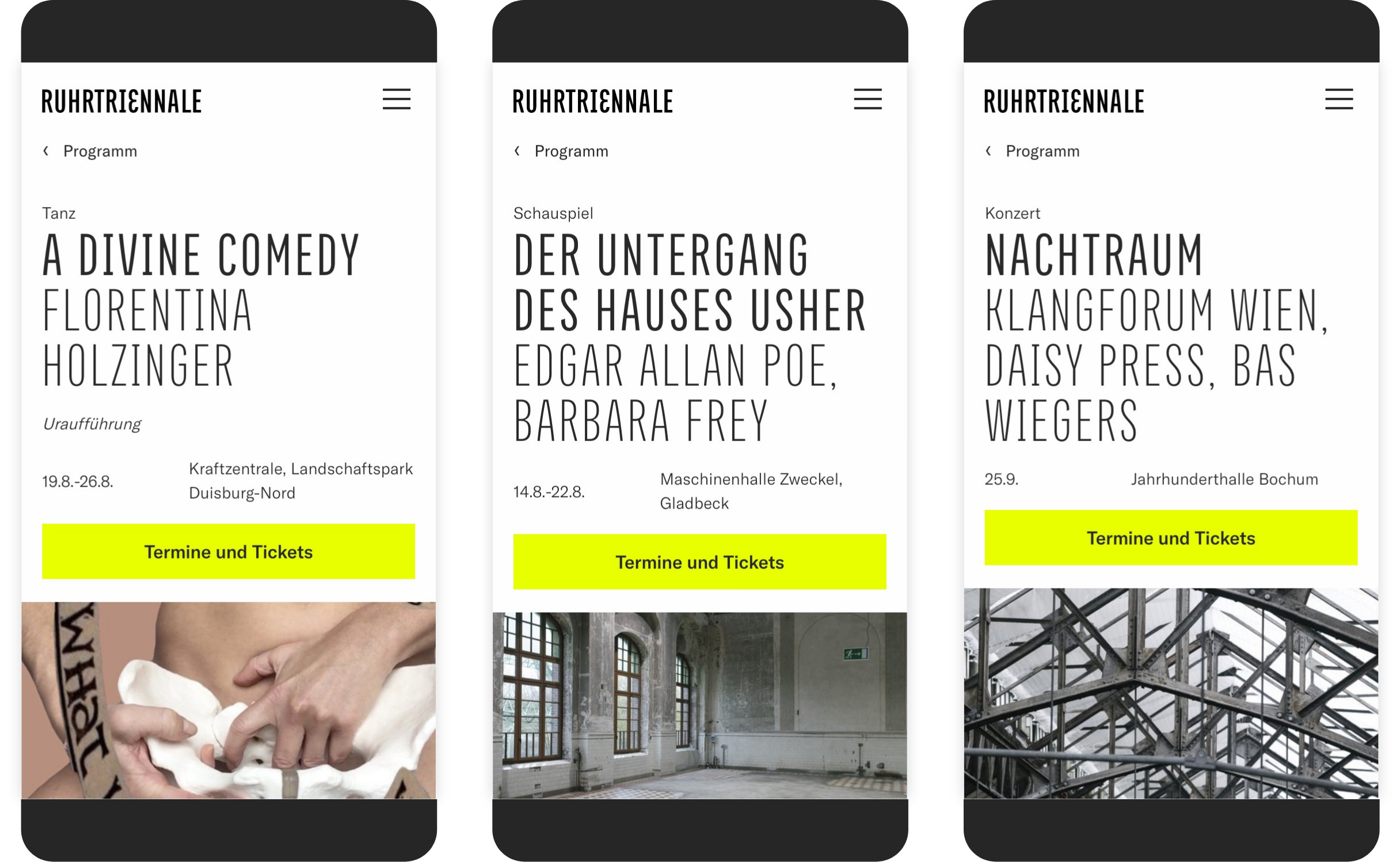 The magazine
Accompanying the festival, the specially developed magazine presents news, information and further texts that give a deeper insight into the productions (e.g. via interviews, photo reports, essays or similar) or communicate the festival atmosphere. The editorial content can be customized individually and easily using our drag & drop CMS tool. The tool makes it possible to create pages that follow the reduced design approach, but can be fully customized to the particular theme or venue. This allows content to be edited and presented in a variety of formats, without being limited by technical format constraints.
Magazine
This is where the art is
In addition to the artists and their works, the halls, coking plants, machine houses and slagheaps of mining and the steel industry are equally central and distinctive protagonists of the festival. Since the venues are spread across the entire Ruhr region, it was important to us to locate them - in addition to the list view - in a map view that can be quickly comprehended. A click takes you to the detailed view, where you'll find interesting facts about the history of each venue, an overview of the events, and useful information for a visit.
Venues
Summary
The Ruhrtriennale is an annual festival of the arts in the Ruhr region. Through the numerous different venues and art forms, different user groups are addressed. As a basis for the site, we further deepened the user-centered design and conducted extensive qualitative interviews with users, whose ideas and needs - in addition to the goals of the directorate - were incorporated into the implementation of the website. The iterations of the site were repeatedly reviewed and adjusted based on user tests. The result was a clear idea of what users expect from the website and thus well-founded and empirically proven design decisions. We were able to combine the user expectations identified in this way with the leitmotifs and expectations of the festival management and finally develop the new Ruhrtriennale website in its current form.
Client

Kultur Ruhr GmbH

Project

www.ruhrtriennale.de

Duration

6 months

Go-Live

May 2021

Team

1 Project Manager
1 Designer
2 Frontend-Developers
2 Backend Developer
1 IT Operator

Systemwelt

EVIS (Distributionssoftware)
CTS Eventim (Ticketing-System)
Python/Django (Webframework)
Elasticsearch (Search Engine)
Celery (Task-Management)
Sentry (Error Tacking)

Externes Design-Team

José Aquilanti und Ann Christin Sievers