Relevant and direct information
The relatively heterogeneous target groups were to be addressed as directly as possible – emotionally and by means of a contemporary look and feel. The target group are among others architecture enthusiasts, tourists, families and visitors to the annual 1,000 concerts from very different genres and cultures. The idea was to focus even more on the essential – to address (potential) visitors authentically and without distractions.
Discover website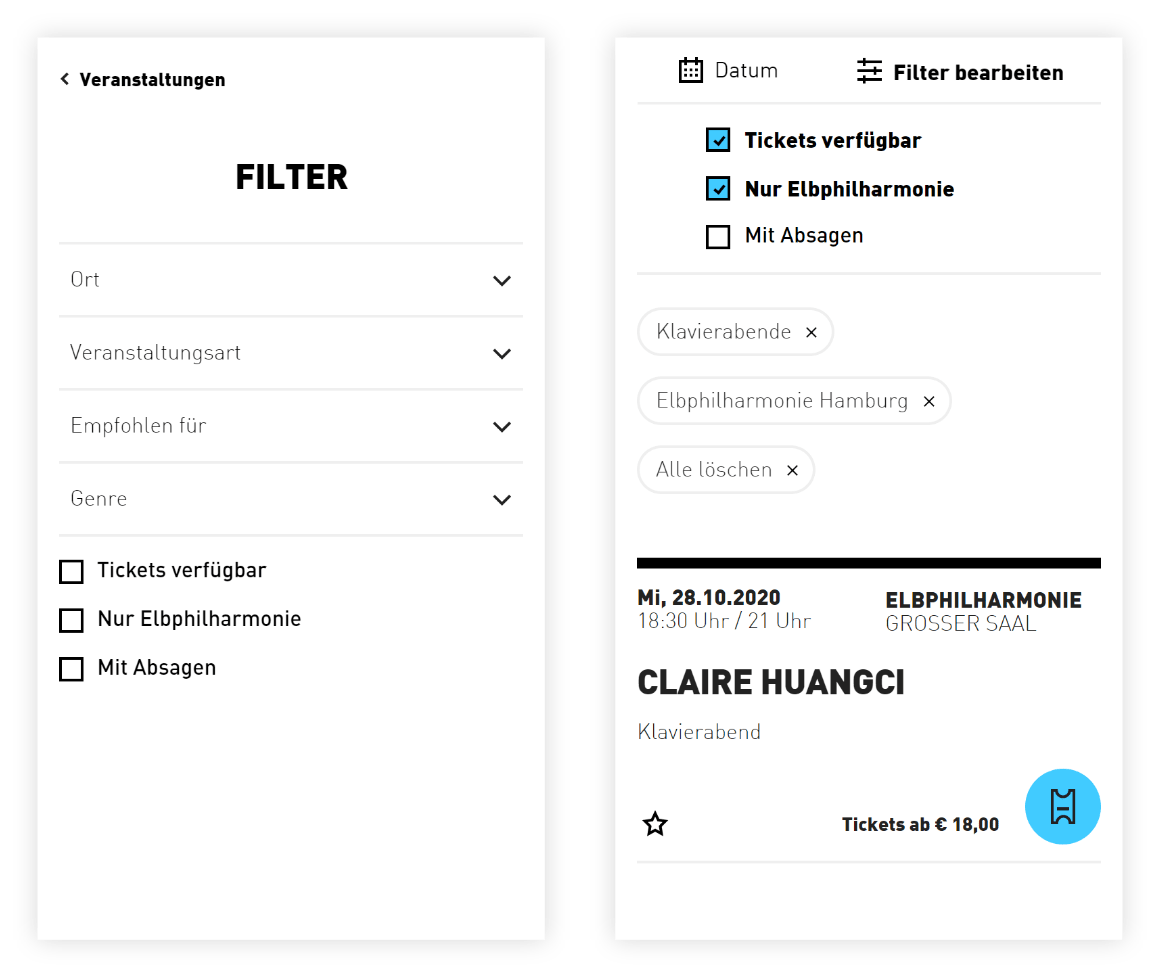 Let the pictures do the talking
Relevant content should be easy and quick to find, without unnecessary clicks and tedious scrolling. Pictures and videos should be the central means of communication and, in combination with meaningful text, address the target group(s) personally. The depth of the content is made accessible through a horizontally oriented information architecture.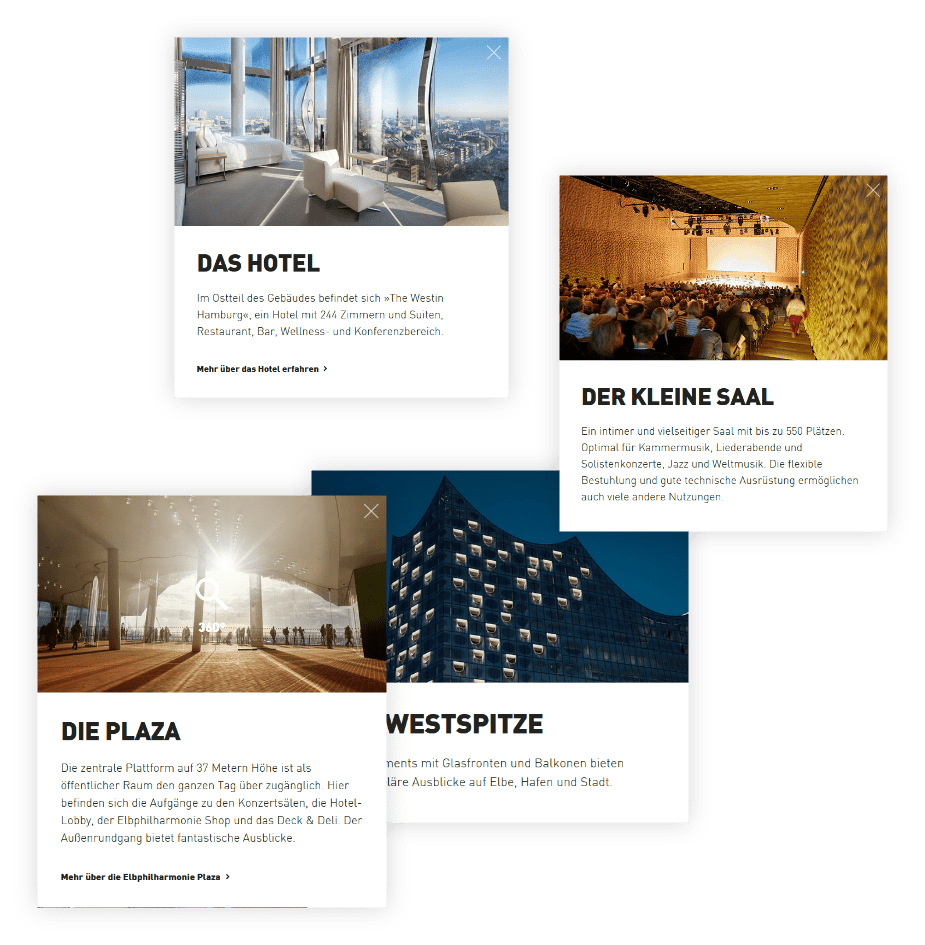 Video killed the text star
The full-screen video on the home page and the large-format images throughout the site tell the story of the Elbphilharmonie Concert Hall in impressive pictures, involving the very different users and target groups right from the start.
The easier the journey, the better the user experience
The various user journeys have been simplified through vertically reduced navigation, concise filters, the combination of clear call-to-actions with images and videos and self-documenting content such as podcasts, video on demand, streams and editorial content.
Discover mediatheque
Concert hall goes publisher
The Elbphilharmonie is not only an internationally renowned concert house, but also a highly experienced and accomplished content producer by virtue of its numerous and diverse events. This experience should also be reflected on the website and so the magazine-like blog was designed, which regularly produces and publishes new articles, podcasts, streams and videos. Due to the high-quality editorial content, the site offers constantly updated and relevant information for the different target groups, which can also be played out via social channels, improve search engine results and help to activate potential customers.
Summary
The different target and user groups of the Elbphilharmonie should be addressed as directly as possible and quickly get to the content relevant to them. A user-centric mobile-first design approach that guarantees intuitive and fluid user journeys and enables the greatest possible joy of use is therefore particularly important for the project. Especially in times of pandemic, the extensive media library plays an important role. It is currently the most important stage of the house. But even in normal seasons, it is the digital gateway to the world with its high-quality editorial content, which can also be distributed via social media.
Client

Elbphilharmonie und Laeiszhalle
Betriebsgesellschaft mbH

Project

www.elbphilharmonie.de

Duration

12 months

Go-Live

April 2016

Team

1 Project Manager
1 Designer
2 Frontend-Developers
2 Backend Developer
1 IT Operator

Systemwelt

EVIS (Distribution Software)
JetTicket (Ticketing-System)
Python/Django (Webframework)
Elasticsearch (Onsite Search Engine)
Celery (Task-Management)
Sentry (Error Tacking)
Amazon Cloudfront (Hosting)