Having the user in mind
In order to present the different divisions of the Leipzig Opera in a meaningful and comprehensible way for all users, it was necessary to find corresponding solutions under the umbrella of the brand. The core approach is a consistently user-centered information architecture that highlights the individual divisions, but assigns central importance to the schedule (calendar of events). In addition, a blog was developed in which the editorial content of the individual sections is displayed on an equal level and ordered by means of a quickly accessible color scheme and hashtags. This way, a content-driven hub was created, from which cross-links to productions, events and artists are made possible in a simple way.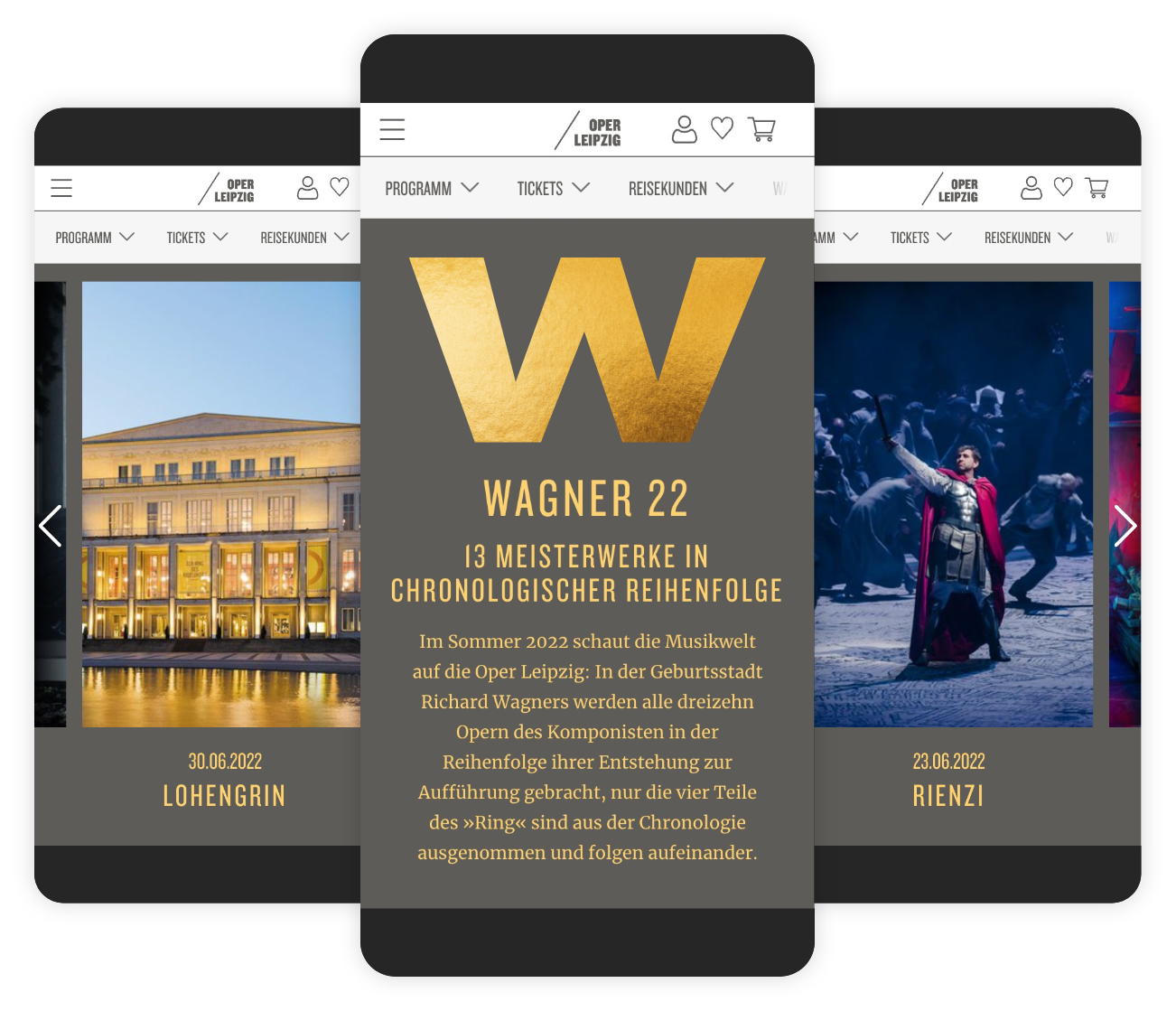 Good looking and flexible
Our intuitive front-end editing CMS based on Django enables editors to plan, design and publish content on an individually tailored basis. Stories and focal points can be prepared flexibly based on the available material without being restricted by existing structures. Here, on the occasion of the performance of Richard Wagner's complete stage works, a focus page was designed on the website instead of programming an external microsite, for example, which would unnecessarily undercut or even interrupt the user journey.
Breathing room
As part of the relaunch, the page design was adapted to the new, fresh corporate design, which uses generous white spaces to support focus on the content. The large-format images and videos, editorial content and clear typography are thus given room to breathe and convey an undisguised impression of the highest musical and technical quality of the internationally renowned house.
Summary
For the relaunch of the Oper Leipzig, we restructured the website of the multi-genre house with a consistently user-centered information architecture and adapted the design to the new, fresh CD. A particularly efficient icing on the cake: Since Oper Leipzig is a long-standing customer, the technical basis of the Django framework setup was reused, and the saved resources were invested in the new blog. A clearly structured, intuitively usable website with exciting content.
Client

Oper Leipzig

Project

www.oper-leipzig.de

Duration

4 months

Go-Live

2019

Team

1 Projektmanager
1 Designer
2 Frontend-Entwickler
1 Backend-Entwickler
1 IT Operator

Systemwelt

Theasoft (Distributionssoftware)
DTS/Eventim (Ticketing-System)
Python/Django (Webframework)
Celery (Task-Management)
Sentry (Error Tacking)